RTVE has just released four HD-SDI high definition mobile units for its production centers in Madrid, Sant Cugat (Barcelona) and Canary Islands, in which the technological solutions of Riedel Communications, Grass Valley and Crosspoint play a key role.
The 4 units PEL (Light Electronic Production) type have capacity for seven positions: director, assistant director, mixer, video server operator, technical control, image control and sound control. The mobiles serve with 5 Grass Valley LDX-82 Elite cameras. Thanks to Grass Valley 'cradle' racks, base stations are exchanged between mobile units immediately to activate their configuration of four, five or six cameras on demand for the service to be broadcast. The mixer that has been mounted on each mobile unit is also from Grass Valley, specifically the Kula model, with 2 M / E banks.
Each unit is managed by a Riedel Mediornet routing switcher and multiview system that has the ability to locate a part of the matrix near the stage to receive and organize video, audio, intercom and data signals from there. Highlighting together with the reliability and robustness, the ease and simplicity of operation by an operator of this decentralized hybrid matrix system with integrated multiscreen.
Jesús García Romero, director of the Technical Area of ​​TVE, mentions that, despite the minimum size of the unit, taking into account that we are talking about a small van, it has a very powerful and friendly system. A "box" that integrates all the signals and formats involved in a broadcast production, where it is practically transparent to handle embedded audio and place it in the madi port of the audio mixer, in a very simple way. With a Compact Pro box that remotely locates an intercom antenna, FTTH, SDI video monitor, etc. Deployment at the event location is fast and versatile.

The communications equipment is designed to meet different needs thanks to the Riedel Communications Artist / Bolero wired and wireless intercom matrix. Likewise, tally management is managed by the CROSSPOINT HUB-DSPv3 controller.
Simultaneous productions thanks to the interconnection between the mobile units
Flexible Riedel Mediornet solution designed for this project by Crosspoint, allows the units to have the ability to connect to each other via fiber optics, thus linking the main systems. The matrices share video, audio and data signals, so that all signals are available on both units. Fiber optic connection also makes it possible to share the MADI signals of the audio mixing systems and the intercom matrices to work as one.
This system allows RTVE to carry out audiovisual productions that demand a high number of cameras, allowing a double simultaneous production with an international signal and a totally independent personalized one.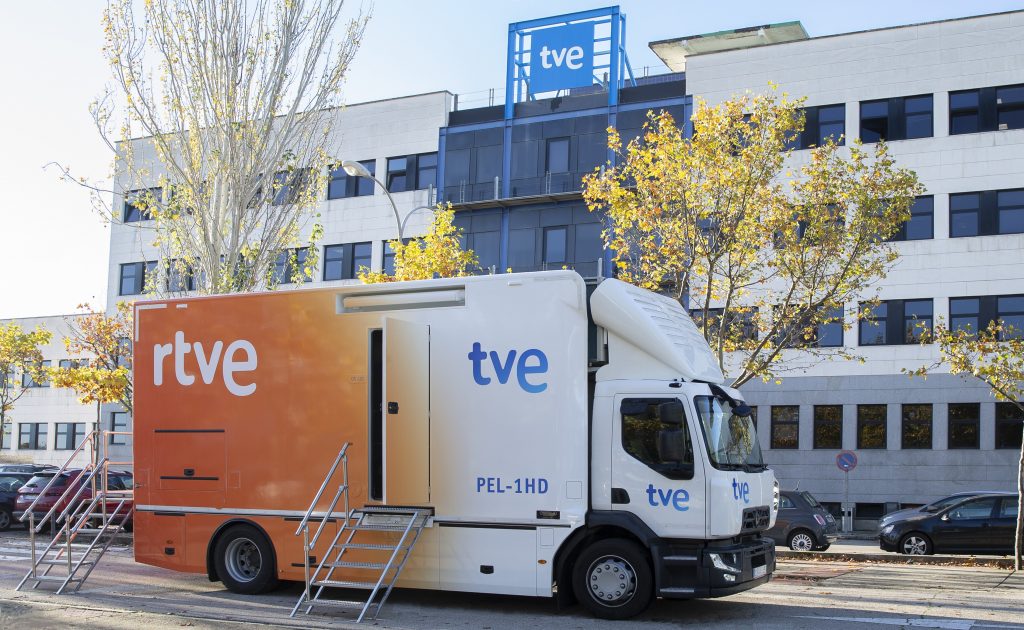 A design made with the best technological specialists in the sector
Crosspoint, together with specialists from Riedel Communications and Grass Valley, and other industry suppliers, has proposed technological solutions that responded to the high level of performance and versatility requested by RTVE Engineering team when designing the new generation of mobile units of the public Corporation. Solutions that were finally chosen by the awarded bidder.
Ricardo Cuenca, engineer responsible for the project at Crosspoint, comments "from the first conversations about technology with TVE for this type of project, a solution of high Broadcast quality and versatility was demanded. We understood that in the PEL project the basic requirement was to undertake a large number of different events and scenarios with the ability to increase resources without having to go through large trucks.

The video, audio and data distribution solutions offered by Mediornet from Riedel Communications ensure great reliability, as well as increasing their capacities by joining several systems into one. Another important point is the integration of communication elements such as Riedel's Artist intercom system with Bolero wireless beltpacks, which are the most advanced on the market with ADR technology (advanced DECT), and AES67 connectivity distributed over the MediorNet network that provides a great mobility in the location of antennas.

Something equally basic for this project, I consider that they are the Grass Valley cameras of the LDX-82 series with an extraordinary quality of image capture in any lighting condition in outdoor or indoor events as well as their ability to rapidly increase resources with cradle functionality that allows cameras to be added or removed without the need for rewiring".
Images courtesy of RTVE