Riedel Communications was founded in 1987 and today employs over 400 people spread over 11 locations in Europe, Australia, Asia and the Americas. Riedel's technology has been embraced at numerous worldclass international events including Formula 1 races, G7 Summits, World Championships and the Olympic Games. Leading broadcasting companies, prestigious theatres and well-known industrial facilities have also utilized Riedel systems, as have smaller applications and events.
In three business fields:
Manufacturing: Riedel designs, manufactures and distributes the most sophisticated intercom, fiber, audio and radio technology for customers worldwide in the broadcast, pro-audio, event, sports and theatre industries. (certified under ISO 9001:2000)
Rental Service: The rental service provides wired and wireless intercom solutions, IT infrastructure for events, accreditation & ticketing systems as well as radio and fibre-based audio and video transmission systems. Riedel offers extensive services including project planning, logistics, set-up and operation.
Radio Distribution: Riedel is one of the biggest authorized Motorola business partners in Europe (partnership since 1991) and operates one of the biggest radio rental businesses worldwide.
More info:
www.riedel.net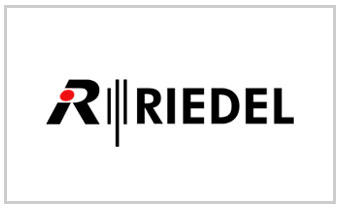 Optimised Business Processes

All of the company's divisions, including R&D, manufacturing, rental, project management, marketing and sales, are consolidated in the "Riedel Technologie Park" – Wuppertal's high-tech business park. Product development and enhancement benefit directly from the experience of past and current projects. Sales and support offices worldwide provide optimal service to our customers.

Everything from a Single Source

The core of Riedel's product and solutions portfolio consists of integrated real-time networks for HD video, audio, data and communications. Riedel's products include the fibre-optic media network MediorNet, the intercom solutions Artist, Performer and Acrobat as well as the digital audio network RockNet. A wide range of complementary technologies, such as professional radio systems and RF video solutions, further expand Riedel's product range. In close collaboration with its system partners, Riedel's capabilities extend to custom-made solutions and ready-to-use systems. Years of experience in project management and adaptating equipment to unique project demands underscore the customer oriented attitude of the company.

Practical Solutions from Practical Experiences

Riedel maintains a large rental operation which enables the company to address the needs of its customers directly. The rental service provides tailored wired and wireless communications solutions, IT infrastructure for events, as well as fibre-based and wireless signal transport and routing systems for sporting, event, theatre and industrial applications worldwide. In addition to renting equipment, Riedel offers extensive support services from project planning to on-site operation.

Quality made in Germany

Riedel's products are manufactured entirely in Germany - from research and development to production. The production process is ISO:9001 certified. "In this way we can be assured of meeting the highest demands concerning product quality and strength. The resulting reliability is especially important because our products are in operation 24/7,".