Crosspoint, only Amethyst partner of Grass Valley for Spain, has recently delivered 10 Focus 75 Live model camera chains to Telefónica Broadcast Services for the remote production of the basketball Liga Endesa. 
Following the agreement between Telefónica and ACB for the renewal of television rights, production of the competitions and the sponsorship of ACB during the next three seasons (2018-2021), the operations management of Telefónica, which covers the engineering and production teams, has decided to start making remote productions in the broadcast of basketball seasons with Grass Valley cameras.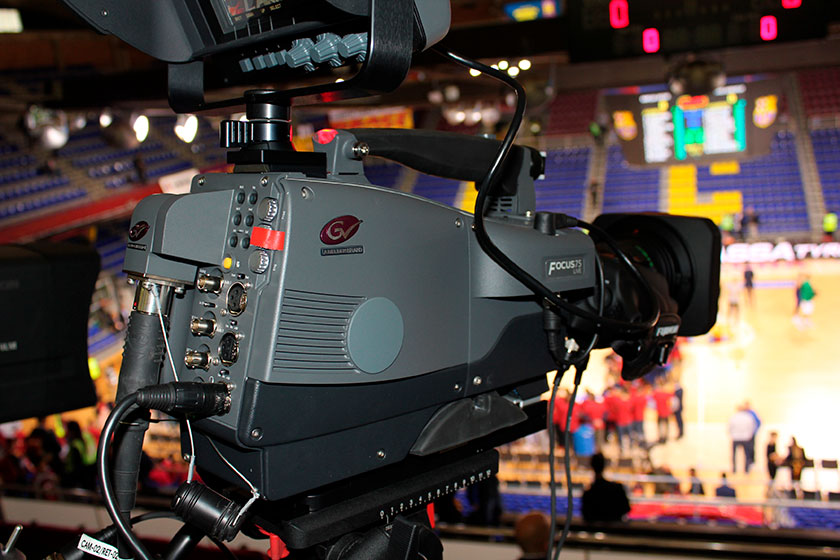 The high quality and reliability of Grass Valley cameras, along with the possibility of having behind Crosspoint as official GV ASP (Authorized Service Provider), they have been key to the continuity of our commitment.

Daniel Barroso, TBS CEO.
Grass Valley has been working since 2016 in the field of remote production with the development of proprietary technology C2IP (Camera Control Over IP Network), Direct IP and Direct IP+. This technology, unique among the manufacturers of broadcast cameras, makes it possible to generate an IP flow between the camera and the CCU that allows the camera body to be separated from the rest of the chain components in order to carry out a remote camera control, thus opening the door to the remote production of all type of Live shows.
During last months, Crosspoint has been making a great effort to disseminate Grass Valley solutions for productions in IP environments with product demonstrations and workshops with the main players of Spanish broadcast enviroment.
On the other hand, the strategic position of Grass Valley with other manufacturers for remote production, has been decisive for TBS and Movistar+ in its strategy for the acquisition of equipment in this second stage with Liga Endesa, Spanish basketball league, after the previous agreement between 2015 and 2018. In this new period, Telefónica and ACB have gone a step further and will take their collaboration to new levels in retransmissions and technological innovation, creating a strategic plan for the development and growth of broadcasts over the coming seasons.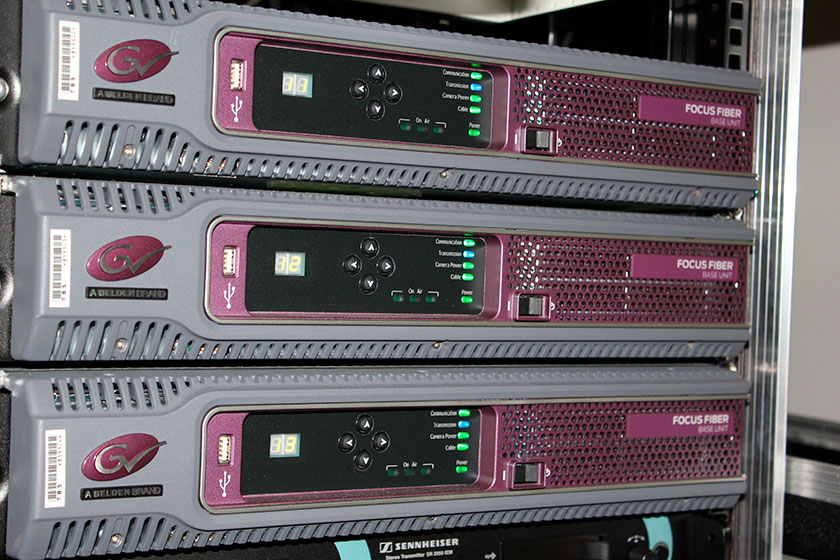 ACB competitions have a leading role in the content strategy of Movistar+. Also in #Vamos, the new sports window exclusively for all Movistar + customers. Every week #Vamos offers in live the best match of the day of Liga Endesa and the rest of the matches also live and exclusively in Movistar Deportes. In total, there will be more than 1,000 live matches throughout these three seasons, all of them within their Premium offer and with the Movistar+ quality seal.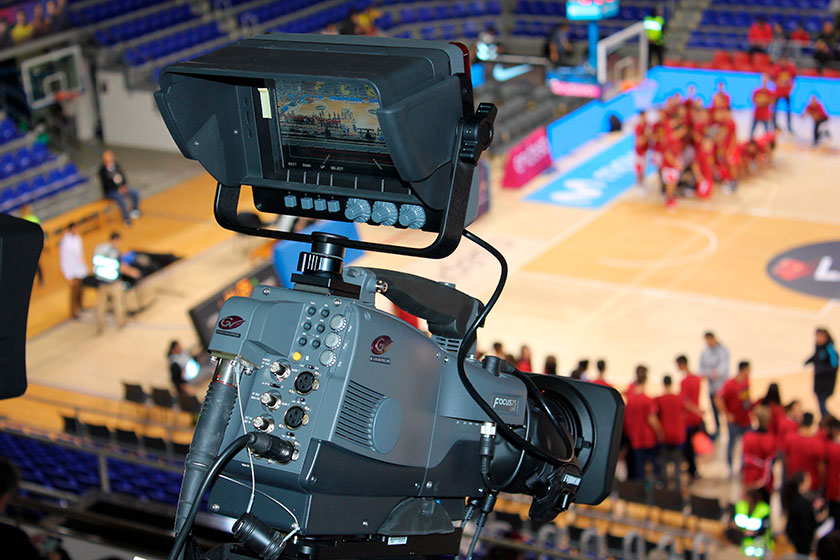 This way, Telefonica Broadcast Services (TBS) follows a continuity line with Crosspoint after several years betting on Grass Valley cameras for mobile units, and which had another endorsement at the beginning of the year with the acquisition of another 11 camera chains for various productions. among which stood out the performance of different services during the recent World Cup of Russia 2018. In the words of Daniel Barroso, TBS CEO, "the high quality and reliability of Grass Valley cameras, along with the possibility of having behind Crosspoint as official GV ASP (Authorized Service Provider), they have been key to the continuity of our commitment".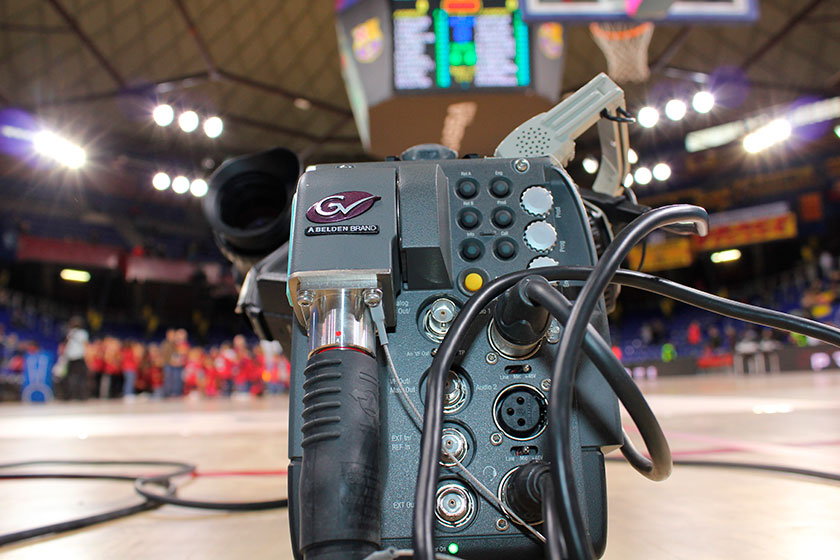 About Movistar+
Movistar+, a company of the Telefónica Group, is the leading audiovisual entertainment group in Spain. Its offer includes the best premium content of sports, movies, series, documentaries and programs, to which the best features and on-demand access are also included, so that the user can enjoy television where, how and when he wants. Since September 2017, Movistar + has launched its production strategy of original series, premiering a new fiction every month ('Velvet Colección', 'Vergüenza', 'La Zona', 'La Peste', 'Mira lo Que has hecho ',' Félix " Matar al Padre ',' El Día de Mañana ',' Skam España ',' Gigantes' and 'Arde Madrid') and with more than 20 new projects in development. In addition, in 2018 Movistar + starts a new line of original film production with the feature film 'Mientras dure la Guerra', directed by Alejandro Amenábar. A content proposal that joins # 0, the original brand for entertainment and #Vamos, the exclusive sports channel of Movistar +. A quality-based television offer available for more than 3.9 million subscribed homes. Movistar + was born as a film production company in 2013 under the Telefónica Studios brand. Some of the co-produced titles are "Palmeras en la Nieve", "Tadeo Jones", "Mi Gran Noche", "Anacleto Agente Secreto", "Relatos Salvajes", "Cien años de perdón", "Truman", "El Hombre de las mil caras "," Oro" or "Campeones". Movistar + being continuously updated incorporating the best products and functionalities into its offer and reinforces its extensive catalogue of multi-device on-demand content available to all its customers. A unique proposal tailored to the user, who can enjoy television wherever and whenever he wants.
About Grass Valley
Grass Valley is focused on empowering customers to create, control and connect content wherever, however and whenever it is consumed. In this ever-changing media landscape, content remains the most important element. Many of our customers are faced with the need to create and support new workflows while continuing to operate their legacy workflows, simultaneously broadcasting through traditional channels, Over-The-Top platforms, and Video-On-Demand as well as to tablets, PCs, and mobile devices. We provide the innovative tools and expertise to help customers improve the efficiency of their operations while telling better stories to attract and keep viewers. With Grass Valley's integrated solutions that enable flexibility, efficiency, cost-effectiveness, quality and scalability, broadcasters and content creators have what they need to sustain their businesses. Headquartered in Montreal, Grass Valley has been in the broadcast business for nearly 60 years and is part of St. Louis-based Belden Inc. For more information, visit 
www.belden.com
About Crosspoint
With more than 25 years of experience in the Spanish broadcast sector, developing and manufacturing control and signalling solutions in television, as well as commercializing the catalogue of the leading brands in the Global Broadcast Industry, CROSSPOiNT has become a benchmark company in the Spanish market.The quality of the solutions provided and the excellence of our pre-sales and technical support team has allowed us to enjoy the confidence of practically the entire broadcast industry, both in production areas (studios, mobile units …) as well as in Master Control, Broadcasting and Transmission environments … Some of our main clients are RTVE, Mediaset, Atresmedia, Movistar +, Dorna, OBS, ETB, TV3, TVG, À Punt, Aragón TV, Betevé, IB3, Gestmusic, Zeppelin TV, Disney Channel, AMC Networks, Cellnex, XAL .. .In parallel to its consolidation in the environment of production, infrastructure, transmission or communications, hand in hand with its usual brands (Grass Valley -of which is the only "Amethyst partner" Spanish, Riedel Communications, Embrionix, BFE, Jünger, Shotoku …), recently, with the firm intention of positioning itself within the new multiplatform ecosystem, Crossspoint has incorporated the recognized Ooyala, Media Excel and Konodrac to its catalogue of distributed companies. In this way, it will be able to solve the most demanding requirements of its current and future clients, in relation to the creation, encoding, distribution and monetization of contents, as well as the analytical part and "Big Data".For more information, visit www.crosspoint.es For more information, visit 
https://www.crosspoint.es