Hi Tech Systems manufactures a suite of software based production and play-out control systems augmented with a range of hardware based accessories.
Makes a range of hardware panels to control broadcast TV equipment that is fitted with a serial interface employing industry standard protocols such as VDCP or Sony BVW. Provides a custom control design service utilising its core hardware and software products for control over network, USB or serial.
Television broadcast, live and event production staff must deal with constant change and pressure while staying on air with quality images and sound. You have the best staff and the best video equipment which is expected to respond quickly to changing conditions like late-breaking news, but how does your production control system measure up?
Your team needs a control solution for your video servers, VTRs, switchers and routers that minimises costly on-air and production errors, easily redistributes workloads, is expandable and is easy to learn and use.
You require a system that is cost effective, expandable and gives years of security and growth.

More info: www.hitechsys.com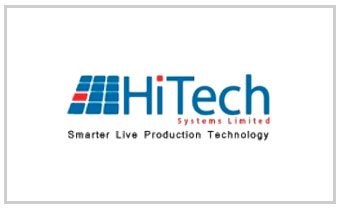 Productos
AViTA

Each AViTA system can be supplied as a ready-to-go system installed in a small footprint chassis requiring an external monitor, mouse and keyboard. If hardware panels are required, one of Hi Tech's configurable asigN control panels can be added (6 or more, the maximum number depends on the system configuration).

Alternatively an AViTA system can be supplied as a ready-to-go stand-alone operator control console featuring a choice of 2 different size configurations, featuring an optional high resolution 10.4 inch touch screen as a user interface – no keyboard or mouse is required (but could be used optionally). Control consoles are built using different front panel modules, and programmed from within AVITA to suit the user's needs, and to suit the workflow requirements. The system is easy to use by technical or operational staff.

asigN

The asigN range of panels is designed for the control of GUI applications on one or multiple computers from one robust hardware panel, giving specific control functions to the operator. asigN can work alongside traditional keyboards, mice and touch screens or replace them entirely.

For equipment that doesn't have a GUI, electrical interfaces are provided for serial, ethernet, contact closure and USB. A simple communication protocol is available.

An associated software package allows the user to configure the panel to control Windows control buttons or sliders by a simple drag and drop method. Using a number of patented methods including visual recognition and pattern mapping, almost any GUI can be controlled.

The panels LCD switches are fully configurable with colour, text, icon, and a wealth of operational switch functions. Interface to the computer(s) is via serial or ethernet and there are currently four panels in the range - three desktop consoles and a 19" rack mount unit.

actiV

actiV Filer Video Server Controller Hands-on live control of multi-channel servers The actiV Filer five-channel Video Server Controller offers hands-on control of multi-channel servers. It is designed for live programming and events – providing a full interactive user interface that is renowned for ease of learning and straightforward fast operation. The sleek hardware panel design is complete with a graphic display and a high level of operator feedback. It makes for stress-free on-air operation where even complex server replay tasks are resolved to a few button pushes.

alsuS

The Actus series is a single and dual compact VTR and DDR controllers.