Crosspoint supplies equipment for updating the entire production and
audiovisual infrastructure of the Parlament de Catalunya
2019 has meant the complete renovation of the production and audiovisual facilities of the Parlament de Catalunya. Most of the equipment used to date dated from 2002, whose obsolescence began to affect parliamentary activity with more projection, such as the production of plenary sessions and parliamentary committees.
Moreover, at the beginning of 2019, the Parliament launched a public tender in order to update the audiovisual equipment of the Sessions Hall and the rest of the rooms of the building in order to be able to watch, listen, record and disseminate the interventions of the deputies, and on the other hand, to generate the pool audio and television signal of the sessions and events that take place in the parliament.
Thanks to this new infrastructure for production, transport and distribution, it is possible to follow in HD all the sessions and public events that take place at the Catalan parliament headquarters, providing at the same time all the media available for broadcasters, telcos and online media operators.
The Catalan Parliament awarded the project to Telefónica Servicios Audiovisuales (TSA) who, together with Crosspoint, integrated teams from the leading manufacturers Riedel Communications (transport, processing, routing, monitoring and communications), Grass Valley (cameras, mixers and modules), BFE (integral control system), AJA (storage and converters). Additionally, Crosspoint has included custom developments, commissioning services, training and support for this project.
The facilities have been equipped with a complete system of HD robotic cameras and remote control for the plenary hall. This supply includes 8 Grass Valley LDX C82 systems. These compact cameras feature 3 x 2/3 ″ Xensium-FT CMOS sensors and also include Wide Color Gamut (WCG) and optionally 1080p pickup or HDR operation.
In addition, audiovisual equipment has been installed for the performance controls in each of the rooms, consisting mainly of audio and video mixers, technical monitoring, multiviewers and a complete intercom system that allows communication between all the Parlament technical rooms.
Regarding to routing and processing, the option chosen by the Parliament was Mediornet from Riedel and also Micron and Metron systems. The German digital intercom Artist and the new Bolero wireless intercom system, integrated in this project, are also from the German manufacturer.
In 2008, the Parliament started a partial renovation process, counting on HD cameras since then, although the production was not carried out in high definition since the crisis came to paralyze the renewal of networks and implementation of control rooms. It wasn´t until 2017 for the Catalan Parlament to resume a comprehensive migration to HD again.
However, as Daniel Rodríguez, broadcast engineer in charge of the renewal project together with Rafael Ramón, says, "this migration could no longer be carried out in stages because we were ten years behind the original project and we need to provide HD as an imperious request. We plan a total migration from SD to HD in terms of implementation of control rooms, signal transport infrastructure and distribution".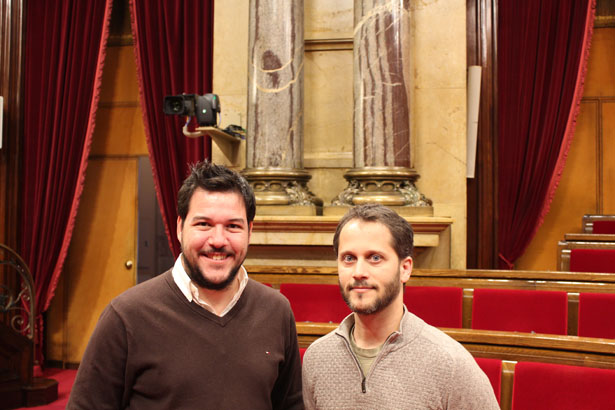 On the other hand, as the Parliament has provided its facilities with the technical equipment necessary for TV production, the media have ceased to have direct access to these rooms except to record the typical covers just a few minutes before the start of a session. It is the Parliament that is responsible for producing the institutional signal, recording it, distributing it to all media. At a time when the vast majority of networks had already migrated to HD, the Parliament could no longer offer an SD-quality image.
"At the design level, instead of having a central node, with all the switching and control electronics, we opted for a decentralized node scheme that gives us great flexibility and the scalability of these modular systems," says Daniel Rodríguez.
The project had contemplated two differentiated transport networks that integrate with each other, one for audio that allows the integration of the video system with the audio system, and the other for transporting the video signals through a proprietary system, which offers a decentralized solution to transport and distribute fiber generated signals. The set is complemented by a management layer and orchestrator system that allows monitoring, control and switching of devices, as well as the integrated audio and video network. This is where BFE's KSC Core comes in.
Rodríguez points out that the peculiarity of a historic building from the mid-eighteenth century located in the Ciudadela park, in Barcelona, required a series of requirements when wiring that fiber solves to a great extent. Furthermore, "we were clear that we are a Parliament, not a television, so we must seek at all times to make the most efficient and rational use of technology possible. That is why the video format chosen for the project has been 1080i, but for us it was essential that at the transport infrastructure level we could assume 1080p and even 4K signals in the future. At the time the project was launched, therefore, it was thought in terms of bandwidth rather than point-to-point lines."
Regarding the possibility of working in 4K, Rafael Ramón, co-head of the project, acknowledges that "going to 4K would have been a very exponential leap that meant more bandwidth in infrastructure, camera replacement …". However, with the current network scheme, the Parlament would have the capacity to transport signals in Ultra High Definition.
Although during 2012 Riedel did some steps with the release of the Compact Pro transport solutions, the costs for an application as large as the Parlament infrastructure were skyrocketing.
Maribel Román, General Manager for Southern Europe at Riedel Communications, stresses that the German company "developed Micron precisely to be able to respond to this type of project with this number of signals, with distributed routers capable of responding to a high density of signals ".
Rafael Ramón adds that "deploying such a large router with the tight space we had in the server room was not feasible. We had nodes with satellite racks distributed throughout the Parliament, configuring a cloud with signals carried by fiber that acts as a decentralized router". Based on this concept, Riedel's Micron "allowed us to gain efficiency and regroup all controls with the space saved," he says. "Specifically, in this facility we have more than 50 frames."
The main project was intended to carry all of these signals without the budget skyrocketing. There was even thought of using large mixers to route signals as they were used for mixing. However, "we preferred smaller mixers than a large mixer with many cards. This scheme gave us greater security in case of error, than a host of boards and components in a large mixer. In this case, Kula has fit like a glove. "
Rafael Ramón: "deploying such a large matrix with the tight space we have in the server room was not feasible. We had nodes with satellite racks distributed throughout the Parliament, configuring a cloud with signals carried by fiber that acts as a matrix. Riedel's Micron allowed us to gain efficiency and regroup all controls with space saved. Specifically, in this facility we have more than 50 frames."
Finally, an independent network and 7 Grass Valley Kula mixers installed in the different production controls were chosen. This 'all-in-one' mixer offers digital video and audio mixing and includes clipstore integration for graphics creation and multiviewer output. With a mainframe of just 2RU, Kula has 40 video inputs / outputs and 80 audio inputs, which provides great configuration flexibility.
Ramón affirms that "we are very happy with both the new cameras and the mixers that allow us to maintain a clean feed for the media, while allowing us to enrich the signal with windows, graphics, subtitling and web distribution".
Additionally, Crosspoint has supplied various AJA solutions such as Ki Pro Recorders / Players, Frame Synchronizers and FS2 Format Converters and various AJA Mini Converters.
Although the project cannot be classified as a native installation in IP (SMPTE 2110), it has Micron systems that accept IP signals and can manage up to 80 Gigs of bandwidth. Furthermore, as the Parlament engineers acknowledge, the 2110 solution, when the drafting phase of the project began, was not yet as standardized or competitive from a cost point of view.
Daniel Rodríguez stresses that the technology used by Riedel is "very easy to use. As almost all proprietary systems start from a plug & play scheme. On the other hand, the 2110 confirms that it is more complex and in this contest we value the ease of management and that it did not require hiring of specialized personnel and systems professionals ".
Maribel Román: "Riedel developed Micron precisely to be able to respond to this type of project with this number of signals, with distributed routers capable of responding to a high density of signals."