One of the major broadcast projects in Europe, creating the platform of sports channels beIN by Al Jazeera France, has had the Crosspoint prominent role as one of the leading companies supplying products and services. 
One of the main premises of the project established by the client was to have latest technology equipment manufactured by leading brands. Miranda Technologies and Riedel Communications.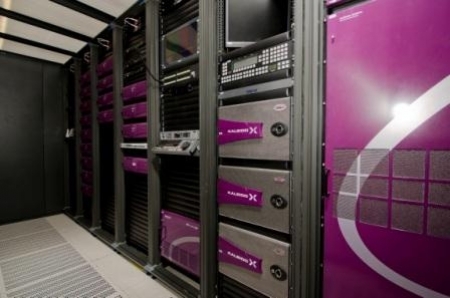 Given the weight of Riedel (full intercom system) and, above all, Miranda supply (matrices, multiscreen modular, continuous mixers, advanced graphics generators, alarm system …) Crosspoint has become one of the leading suppliers in this exciting project.
SUPPLY SUMMARY
After the first supply for beIN 1, the later one for beIN 2 and last expansions for more input and output feeds, we recap the supplied equipment in the project:
Miranda Technologies
1 x 576×684 NVISION production router with redundant CPUs, PSUs and crosspoints.
1 x 144×144 NVISION MCR router with redundant CPUs, PSUs and crosspoints.
1 x redundant control system and 54 x control panels.
3 x KALEIDO KX-7RU multiview, with an overall configuration of 96×8 and 192×12.
10 x master control mixers Imagestore IS750
10 x master control mixers Imagestore-Modular ISM-3901
8 x logo inserters LGK-3901
5 x MCR panels iMC-PANEL-200
8 x advanced graphics engines IntuitionXG
40 x frames for modular cards DENSITE 3
461 x modular cards Densite, some of them:
79 x HD/SD-SDI distributor HDA-1931
68 x up/down/cross-converter XVP-3901
41 x change-over HCO-1822
38 x embedder ADX-3981
1 x application server for logging and alarms management iC-Enterprise
2 x universal remote controllers RCP-200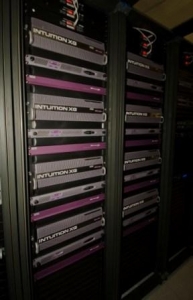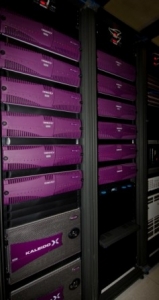 Riedel Communications
2 x Artist intercom routers with audio digital processing MFR-128 configured as only one centralized system of 256×256 ports. Dual fiber ring connection, redundant CPUs and PSUs.
88 x Connections for Panel / Connect Interface
88 x 4-fires Connections for analog interfacing
8 x VoIP Connections
17 x Connect Trio for 34 PSTN/RDSI Connections
45 x RCP2016P4 panels (17 with expansion) and 8 RCP2116P4 panels, these last ones with dual circuit for input and output analog access..
1 x wireless digital system CC8 Artist integrated with 18 Beltpacks and 11 CA6 Antennas.
CROSSPOiNT Services
Works of technical consulting, remote configuration, commissioning of all the equipment and training for all the operators and technicians.