Since 1993, AJA Video has been a leading manufacturer of high-quality and cost-effective digital video interface, conversion and desktop solutions for professional broadcast and post-production. Based in Grass Valley, CA, the company has always had a vision and passion for leveraging its engineering expertise to set the pace for innovation in digital video technology.
ntroducing groundbreaking tools such as: converters to bridge varying formats, video capture and playback cards to flexibly connect software with a range of hardware, I/O products to support the latest interfaces and portable recording devices to facilitate new workflow paradigms in television and film, AJA has helped to evolve the market for professional desktop video production. AJA continues to develop next-generation capabilities across platforms, allowing customers to work professionally in increasingly high-end formats while still using their desktop computing packages and platforms of choice.

More info: www.aja.com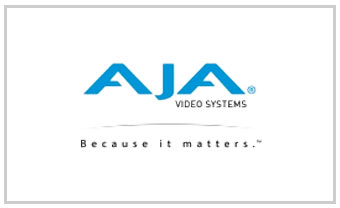 Products
Acquire

Ki Pro Family - AJA Ki Pro models are file-based recording and playback devices that create high-quality files on computer-friendly media. With extensive video and audio connectivity, you can interface with virtually any type of camera you might own or rent and connect seamlessly with your post production hardware. All Ki Pros are intuitive to operate, with familiar VTR-like buttons and and a clear, easy-to-understand user interface.

Convert

FS Family -AJA's FS family brings the full power of our hardware conversion expertise within compact 1RU rack units that offer unrivalled flexibility. Delivering AJA's industry standard up/down/cross converter technology for the highest quality images, FS units are ideal for high-density applications such as mobile trucks and packed machine rooms, able to replace multiple hardware units in a single rack slot. A wide range of conversion possibilities makes them perfect for converting disparate sources to a common format, or handling whatever formats the production environment might throw at you.


KUMO Family - KUMO routers are built to AJA's demanding quality standards, which exceed SMPTE specifications. As data rates increase, such as with 3G signals, higher tolerances are required in order to maintain signal quality.


Rackmounts - For critical broadcast applications, AJA R series converter cards provide the highest levels of quality and reliability in compact 1RU or 2RU frames.


Mini-Converters - Whatever the needs of the production, AJA Mini-Converters offer the most complete range of compact, standalone conversion solutions, designed with quality video and audio combined with the highest standards in reliability.